FlexMarket Zero Interest Loan
0% interest, 2-year financing for qualifying California residents making eligible energy efficient home improvements.

Discover Energy Efficiency Project Financing!
In coordination with Franklin Energy, NEIF offers 0% financing to eligible Franklin Energy borrowers for qualifying home improvements. Continue reading to learn more about this affordable loan.
What Improvements Qualify?
Comfort Package, Single Story
Comfort Package, Two Story
HVAC Fuel Swap to Heat Pump
Ductless Mini-Split Heat Pump
Heat Pump Water Heater
Low Guaranteed Monthly Payments
Low Guaranteed Monthly Payments
The FlexMarket Zero Interest Loan program provides affordable 0% financing to California residents making eligible energy efficient home improvements. Projects must be vetted by Franklin Energy.
Customers will need to submit gas and electric SAID numbers to apply.
1 to 4-unit primary or secondary (vacation) home – deeded properties and co-operative housing communities
Owner-occupied, no investment properties*

*Properties owned by a Trust are not eligible

Must be affixed to a permanent foundation
Unsecured loans — property type is for qualification only — no lien is filed
Improvements must be installed by a NEIF-Approved Contractor
For additional details on eligibility and improvements, click here. 
1. Get an Estimate
Contact a NEIF-Approved Contractor to get an estimate for qualifying improvements.
2. Fast Approval
Find a NEIF-Approved Contractor and apply via their application link for an instant credit decision. If you don't have a contractor selected, apply online directly for a no-obligation credit pre-approval.
3. Installation & Payment to Contractor
Your contractor will send us a copy of your estimate/proposal identifying final price and qualifying improvements. You will receive electronic loan documents for your signature. NEIF pays the contractor when the work is completed to your satisfaction.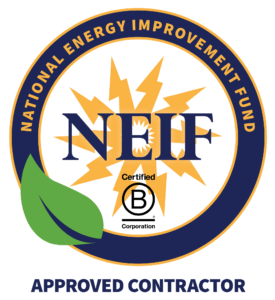 Contractors who have earned the NEIF Seal of Approval are qualified, leading contractors of all sizes authorized to offer NEIF's trusted, affordable monthly payment plans for energy and resilience upgrades.
They have met NEIF standards for commitment to quality work and customer service, financial stability and personal integrity and leverage our technology, expertise and relationships to broaden their markets in HVAC, Roofing, Remodeling, Lighting, and most energy improvements
If you are not already a NEIF-Approved Contractor, Apply Here!
Contractor Resources
Marketing Tools and resources for contractors.
Customer Resources
Resources for eligible applicants and Franklin Energy customers.
Contractor Overview
Program overview for your sales team and staff.
Contractor Program Fact Sheet