In Collaboration With Inclusive Prosperity Capital
EcoBridge Lending offers financing to NEIF-Approved Contractors participating in government and utility incentive programs. This program helps contractors bridge the gap between paying for equipment, subcontractors, etc. and the time it takes for utility or government programs to pay out rebates or on-bill financing (OBF) incentives.
Contractors, click here for EcoBridge Lending FAQs.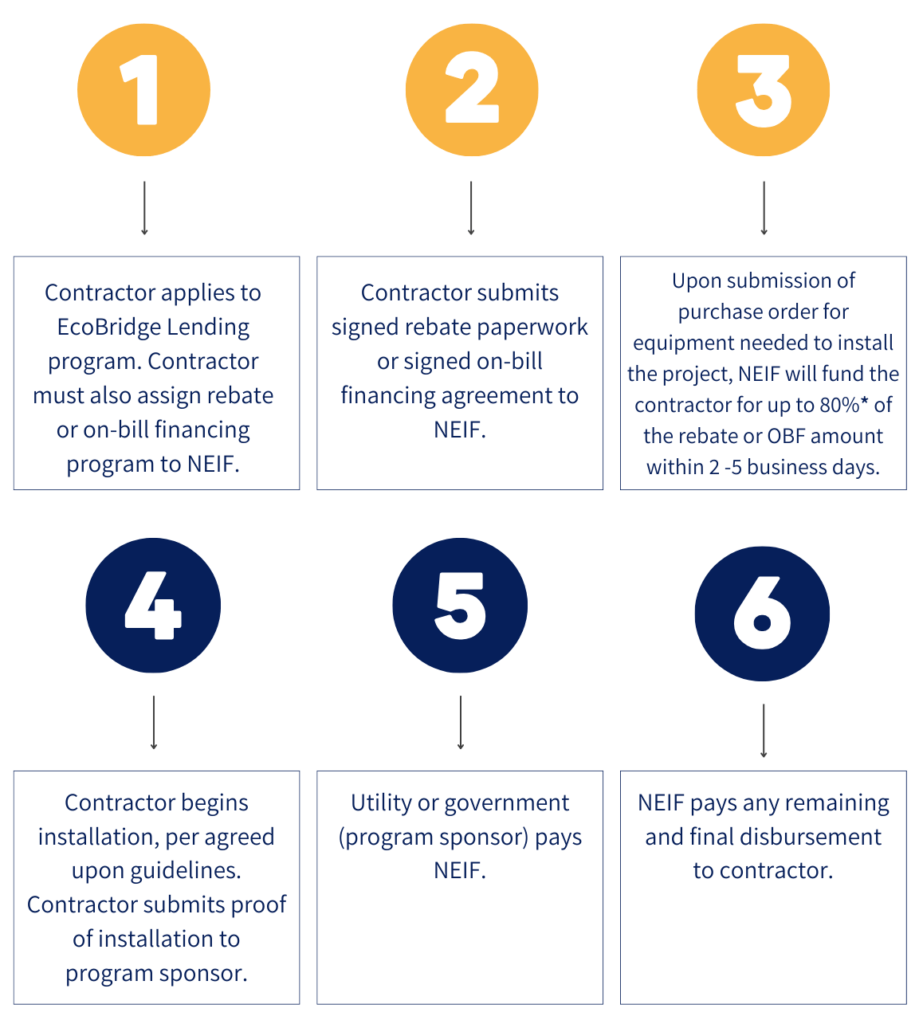 *Percentage may vary by program. Contractor is able to make multiple loans, up to maximum amount in agreement, during the course of the agreement.

How To Apply For EcoBridge Lending:
1.  Contact Ed Matos to apply. 
Find Ed's contact information below to start your application.
Submit all required Contractor/Program documentation. 
E-sign the bridge finance document.
2.   Start submitting for advance payment of your rebates or incentive funds!
Funds are transmitted electronically within days.
What Does EcoBridge Cost?
Interest rate is fixed, calculated daily. Please contact NEIF directly for the current rate.
Borrower Fees
One-time contractor origination fee of 2.00% of approved maximum loan outstanding amount, capped at $500.

Up to $350 per loan fee. 

Loan Amounts
Minimum: $10,000 — capped at 80% of approved loan amount
Maximum: $500,000 per contractor — outstanding at any given time. Higher amounts are available on an exception basis. Additional review and documentation may be required. 
What Does EcoBridge Work Best For?
Programs with the following characteristics:
Payment Lag —
EcoBridge Lending works best when contractors are participating in programs that don't make payments until

at least 45 days

after the contractor has purchased equipment, paid subcontractors, etc. 


Assignable Incentive —
Contractors

must

be able to assign rebate payment to NEIF.
In order to apply for EcoBridge Lending, you'll need to become an Approved Contractor through NEIF. 
Contractors who have earned the NEIF Seal of Approval are qualified, leading contractors of all sizes authorized to apply for EcoBridge. Approved Contractors may offer NEIF's trusted, affordable monthly payment plans for energy and resilience upgrades.
They have met NEIF standards for commitment to quality work, customer service, financial stability and personal integrity, and leverage our technology, expertise, and relationships to broaden relationships in HVAC, remodeling, lighting, and most energy improvements. Interested in getting NEIF-approved? Click on the button below to get started.