Six Ways to Improve Your Energy Efficiency While Working From Home
It's official: this summer will become the first in three years where the United States is not in a state of public health emergency due to the COVID-19 pandemic. Just last month, President Biden signed legislation that ended the national emergency declaration that had been instated back in 2020.
While the development of vaccines and treatments have contributed to COVID's decline, one side effect seems to remain: the work from home model.
In February 2023, a study conducted by Stanford University discovered that of the 10,000 employees surveyed across various professions and U.S. cities, 27% of paid, full-time days in the previous month were spent at home.
This data collection occurs monthly and observes the trend of remote work that skyrocketed in popularity because of the pandemic in recent years. In fact, between 2019 and 2023, the number of Americans who were working primarily from home tripled, according to the U.S. Census Bureau. 
With more time at home, have remote employees been spending more on their energy bills each month? How does this business model affect residential energy usage? 
The International Energy Agency (IEA) reveals that one day of working from home can increase energy consumption by anywhere from 7% to 23%. The range in usage accounts for varying factors including home size, heating and cooling needs, and appliance efficiency. 
Another research study conducted in 2020 — albeit during peak Covid-times — found that remote workers were faced with an average of $40 to $50 monthly increase in energy costs, or up to $600 per year.
The question now becomes: how can those who are still working from home adopt more energy-efficient solutions? 
Six Energy-Saving Tips To Use On Your WFH Days
#1 Dress For Comfort Before Adjusting the Thermostat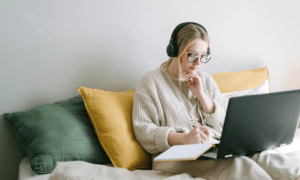 If working from home means that you're afforded the luxury of trading in dress clothes for an outfit that offers a bit more comfort, consider layering up or dressing down first, before you blast the air conditioning or crank up the heat in cooler months. 
#2 Upgrade to LEDs in Your Home Office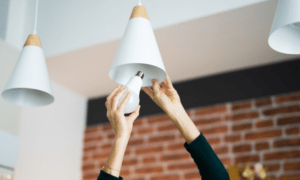 LED lighting uses up to 90% less energy than traditional incandescent bulbs. It's also likely that your designated work space will require less maintenance over time, as LEDs last up to 25 times longer than other lighting technology. 
NEIF works with qualified contractors who not only specialize in lighting, but are authorized to provide affordable financing for the retrofit project you have in mind. You can find an NEIF-Approved Contractor that fits your needs here! 
#3 Turn Monitors Off During Periods of Inactivity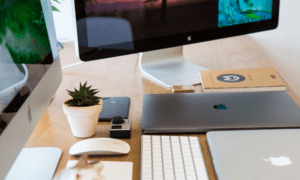 As a best practice in your home office, remember to turn all monitors off when you're not using them. The U.S. Department of Energy reports that a manual shut-off saves a greater amount of energy than letting it default to sleep mode. When powered down completely, ENERGY STAR certified monitors consume less than one watt or less, as opposed to sleep mode where monitors consume up to two watts. 
#4 Use Smart Power Strips For Your Electronics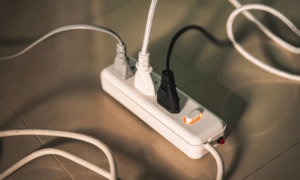 Using smart power strips also encourages cutting the power source to electronics that are not actively being used. Some advanced strips contain built-in timers, motion sensors, or even the ability to connect to Wi-Fi and be further controlled by a smart phone. This can help you reduce what is known as "phantom power" — the hidden force that can account for as much as 10% of home energy costs — or the energy consumed by devices that remain plugged in even when not in use. 
#5 Service Your Appliances Regularly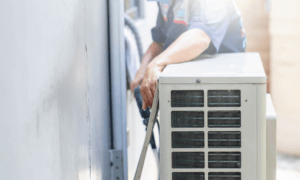 While you might not have control over the laptop model or monitor you're required to use for work, you can, however, ensure that other appliances around your home are operating at maximum efficiency. And if you're working remotely, odds are that your heating and cooling system, refrigerator, washer/dryer machines, etc. are getting used more frequently!
#6 Complete a DIY Home Energy Audit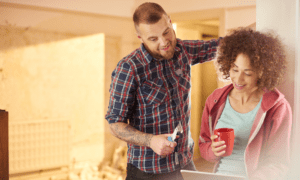 Before deciding on equipment upgrades, consider performing your own energy audit to assess areas of your home that could improve in efficiency. As a rule of thumb, households equipped with ENERGY STAR rated products can save up to $450 energy bills per year. 
Once you've chosen how to best prioritize energy efficiency upgrades in your dedicated workspace and around the home, NEIF is here to help make those residential improvements easy and affordable. With our fixed-rate, low monthly payment options for financing, you can Go Greener, Affordably even while working from home. 
Begin your search for an NEIF-Approved Contractor today or learn more about NEIF's financing programs available to homeowners nationwide. 
SOURCES: International Energy Agency, National Bureau of Economic Research, Save on Energy, The White House, Time Magazine, U.S. Census Bureau, U.S. Department of Energy, WFH Research