New Hampshire Residential Clean Energy Loan
0.00% APR fixed monthly payment financing for qualifying home energy efficiency upgrades
*PLEASE NOTE: This program is currently not accepting any new applications.*
Trusted financing for upgrades that make your home more efficient, safe, healthy and comfortable
In partnership with Eversource, NEIF offers homeowners access to trusted, transparent and affordable monthly payment options for upgrades that make your home more energy efficient with the New Hampshire Residential Clean Energy Loan program.
The Clean Energy Fund is separately funded by Eversource, distinct from the customer-funded NHSaves® programs. The Clean Energy Fund does not use any NHSaves®  resources to fund its programming.
What Improvements Qualify?
Homeowners making qualifying improvements, to their primary residence or vacation home (1 to 4 unit on permanent foundation). Work must be performed by a NEIF-Approved Contractor.  
Air Source Heat Pumps

SEER ≥ 16.00, EER ≥ 12.50, HSPF ≥ 10.00 for Split Systems
SEER ≥ 16.00, EER ≥ 12.50, HSPF ≥ 10.00 for Packaged Systems

Geothermal Heat Pumps

Closed Loop Water to Air EER ≥ 17.1, COP ≥ 3.6 
Closed Loop Water to Water, EER ≥ 16.1, COP ≥ 3.1 
Direct Expansion Refrigerant EER ≥ 16, COP ≥ 3.6

Ductless Heating and Cooling System of Matched Assembly

Single indoor unit SEER ≥ 20.0, EER ≥ 12.5, HSPF ≥ 10
Multiple indoor unit SEER ≥ 18.0, EER ≥ 12.5, HSPF ≥ 9

Battery Energy Storage System

Manufacturer/Installation Partner:

Sonnen

Ecobatteries (generation 2 or above)
Ecolinx battery (all generations)
Sonnencore (all generations)
Sonnencore+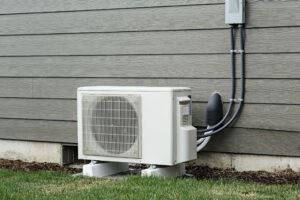 Low Guaranteed Monthly Payments
100% Financing of Project
From $1,000 to $10,000
Simple Interest Unsecured Loan

– No lien on property

Limited Availability – Loan funding is available on a first come, first serve basis, based on the application date of receipt
Low Guaranteed Fixed Monthly Payments – Not a credit card or teaser rate
Complete Flexibility on How Much Interest You Pay – Pay off or pay ahead with no penalty
Simple, Transparent, Expert, Trusted Financing from the nation's most experienced B-Corp energy improvement lender
Applicant must have their electric account with Eversource.
Primary, owner-occupied residence.
The primary borrower must be the property owner and be listed on the electric account. 
The Eversource account holder must be on the loan.
Borrower(s) must be current in their electric utility bill, with at least one year of utility bill payment history and have had either of the following:

No late payment charges for the most recent 6 consecutive months, AND
No more than 2 late payment charges for the last consecutive 12 months

Borrower(s) make all loan payments on their utility bill. If the property is sold, a borrower can either pay off the amount remaining or transfer to the new homeowner.
1. Get an Estimate
Contact a NEIF-Approved Contractor to get an estimate for qualifying improvements.
2. Fast Approval
Find a NEIF-Approved Contractor and apply via their application link for an instant credit decision. If you don't have a contractor selected, apply online here directly for a no-obligation credit
pre-approval.
3. Installation & Payment to Contractor
Your contractor will send us a copy of your estimate/proposal identifying final price and qualifying improvements. You will receive electronic loan documents for your signature. NEIF pays the contractor when the work is completed to your satisfaction.
NEIF-Approved Contractors
Contractors who have earned the NEIF Seal of Approval are qualified, leading contractors of all sizes authorized to offer NEIF's trusted, affordable monthly payment plans for energy and resilience upgrades.
They have met NEIF standards for commitment to quality work and customer service, financial stability and personal integrity and leverage our technology, expertise and relationships to broaden their markets in HVAC, Roofing, Remodeling, Lighting, and most energy improvements
If you are not already a NEIF-Approved Contractor, apply here!
To watch NEIF's 30-minute financing overview for the New Hampshire Residential Clean Energy Loan, Click Here!
Program Brochure
Help you customer earn more about the program and how to apply.
Contractor Training
Video training that covers marketing tools and resources for contractors.
Contractor Overview
PDF of program overview for your sales team and staff.