Home Improvement Roofing Insurance and Financing for Southern Coastal Homes
MyStrongHome helps make your house stronger with no out-of-pocket costs by combining reduced home insurance premiums, quality contactors and trusted, low payment financing. 
A program from the National Energy Improvement Fund (NEIF)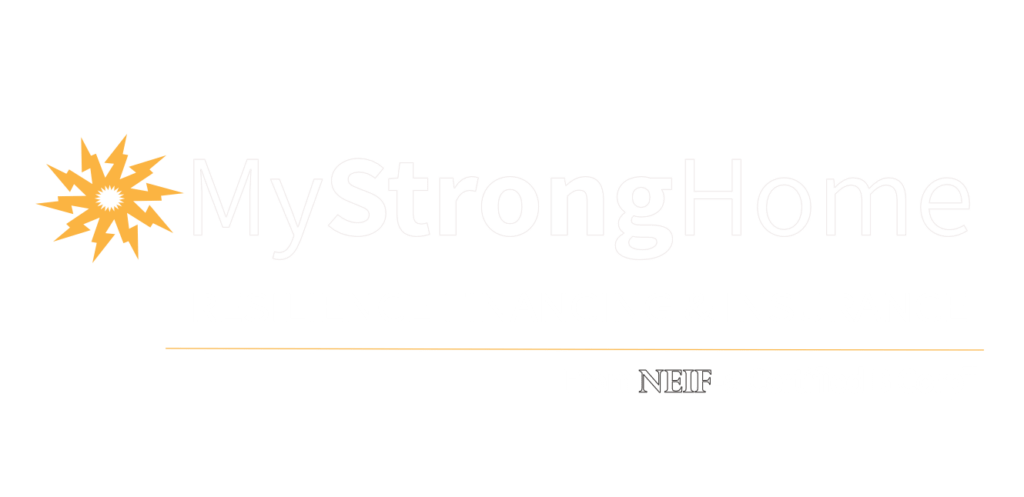 Make your roof and home stronger, save money and improve insurance coverage with no out-of-pocket costs
Homeowners in Alabama,  Louisiana, North Carolina and South Carolina who need to upgrade their roof and make other improvements can take advantage of special reduced home insurance rates and low monthly payment financing for resilient home upgrades – without refinancing or disturbing your current mortgage. 
Resilience projects like roofing upgrades can be expensive – and short term "promotional" financing or paying cash may not be the best options for your monthly budget.  But improvements that strengthen your home can pay big dividends through lower insurance premiums, fewer claims during storms and even energy savings.
MyStrongHome was created specifically to address the unique needs of coastal and Southern  property owners. We partner with the FORTIFIED program from The Institute for Business & Home Safety (IBHS) and understand the nuances of making your home strong and resilient before extreme weather events occur – and may be able to provide you with significant savings on your premiums because of our relationships with carriers that specialize in coastal properties.
MyStrongHome is a program of the National Energy Improvement Fund (NEIF), the nation's only Certified B Corp™  lender specializing in energy and resilience improvements to home and buildings.  NEIF meets the highest standards of accountability and social and environmental impact and is a U.S. Department of Energy Home Improvement Expert lender partner. 
Only contractors who have met qualification standards and earned the NEIF Seal of Approval are authorized to perform work under the MyStrongHome program.  
What makes MyStrongHome the smart choice when upgrading your roof?
Low Monthly Payment, Guaranteed Rate Financing backed by the National Energy Improvement Fund

100% financing available, instant credit decision, easy paperless process and responsive communication with you and your contractor.
Simple interest installment financing, not a credit card,

Guaranteed fixed rate and payment for life of loan
No lien on your home and no hidden costs.
You may pay off at any time or pay ahead without penalty.

Can be combined with special reduced-premium home insurance for properties with upgraded roofs from MyStrongHome Insurance to reduce or eliminate any additional monthly cost for you new roof!  
Work performed by qualified contractors with the NEIF Seal of Approval.
With MyStrongHome you may be able to upgrade your roof

and

reduce your home insurance premium by up to 48%. 
Contact Charleston, SC-based Les Robertson,  Director of MyStrongHome, an expert in coastal and Southern properties and integrating home insurance and financing for roofing and resilience.
What improvements qualify?
Homeowners making qualifying improvements to their primary residence or vacation home (1 to 4 unit on permanent foundation). Work must be performed by a NEIF-Approved Contractor. Additional work can be part of the financed project if at least 50% of the improvements include:
Roofing and Resilience Upgrades
FORTIFIED Roof 
Code-Plus Roof 
Standard Roof Replacement (code compliant)
Windows and Doors 
Siding and Shutters 
Generators
Energy Efficiency and other Eligible Upgrades
Heating and Cooling  (HVAC)
Plumbing & Electrical
Air Sealing & Insulation
Kitchens & Baths 
Solar & Renewable Energy
Other Energy Improvements
MyStrongHome Roof Replacement/Upgrade Estimator Tool
1 to 4-unit primary or secondary (vacation) home in Alabama, Louisiana, North Carolina and South Carolina
Owner-occupied, no investment properties
Must be affixed to a permanent foundation
Unsecured loans – property type is for qualification purposes only—no lien is filed
1. Get an Estimate
Contact a NEIF-Approved Contractor to get an estimate for qualifying improvements.
2. Fast Approval
Find a NEIF-Approved Contractor and apply via their application link for an instant credit decision. If you don't have a contractor selected Apply online directly for a no-obligation credit pre-approval.
Next, securely upload your home insurance policy declaration page (showing your current coverage and premium). This will allow MyStrongHome to calculate the savings on your new homeowners insurance once your roofing or resilience job is complete.
3. Installation & Payment to Contractor
Your contractor will send us a copy of your estimate/proposal identifying final price and qualifying improvements. You will receive electronic loan documents for your signature. NEIF pays the contractor when the work is completed to your satisfaction.
NEIF -Approved Contractors
Contractors who have earned the NEIF Seal of Approval are qualified, leading contractors of all sizes authorized to offer NEIF's trusted, affordable monthly payment plans for energy and resilience upgrades.
They have met NEIF standards for commitment to quality work and customer service, financial stability and personal integrity and leverage our technology, expertise and relationships to broaden their markets in HVAC, Roofing, Remodeling, Lighting, and most energy improvements
If you are not already a NEIF-Approved Contractor, Apply Here!