JCP&L - Residential Energy Efficiency Program Financing
0.00% APR fixed monthly payment financing for qualifying home energy upgrades JCP&L customers are eligible for 0.00% trusted, transparent and affordable monthly payment options that make your home more energy efficient.
0.00% APR Fixed Monthly Payment Financing

Minimum loan $2,500, Maximum loan $15,000

100% Financing (net of rebate) Available

Instant credit decision, easy paperless process and responsive communication with you and your contractor

Simple Interest Installment Loan

Not a credit card, guaranteed fixed rate and payment for life of loan with no lien on you home and no hidden costs.  You may pay off at any time or pay ahead without penalty

From NEIF, a Certified B Corporation™

Certified to meet the highest standards of compliance and fair lending and a U.S. Department of Energy Home Improvement Expert
What Improvements Qualify?
Qualifying improvements include:
Heat Pumps
including air-source, ductless and ground-source
Central Air-Conditioning
Heat Pump Water Heaters
May include Gas Furnaces and Boilers
when installed with qualifying electric Heat Pump, Central Air-Conditioning or Water Heater
Visit www.energysavenj.com/hvac for detailed information on qualifying HVAC improvements.
Home Performance with ENERGY STAR
Whole house energy improvements
Visit
hpwes.energysavenj.com
for detailed information on qualifying Home Performance with ENERGY STAR whole house improvements.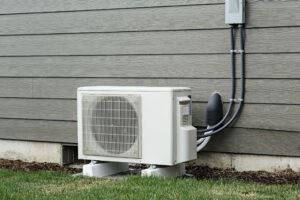 Low Guaranteed Monthly Payments
The JCP&L Energy Efficiency Program provides access to no-cost financing, promoting easy and cost-effective access to energy efficiency upgrades for JCP&L customers. Improvements must qualify for a program rebate.
1 to 4-unit primary or secondary (vacation) home – deeded properties and co-operative housing communities
Owner-occupied, no investment properties
Must be affixed to a permanent foundation
Unsecured loans – property type is for qualification purpose only—no lien is filed
Improvements must be installed by a NEIF-Approved Contractor.
Improvements must qualify for and be awarded a program rebate.
Borrower(s) will need to be the JCP&L utility account holder and provide a copy of their utility bill prior to loan approval.
NEIF-Approved Contractors
Contractors who have earned the NEIF Seal of Approval are qualified, leading contractors of all sizes authorized to offer NEIF's trusted, affordable monthly payment plans for energy and resilience upgrades. 
They have met NEIF standards for commitment to quality work and customer service, financial stability and personal integrity and leverage our technology, expertise and relationships to broaden their markets in HVAC, Roofing, Remodeling, Lighting, and most energy improvements
If you are not already a NEIF-Approved Contractor, apply here!
Download JCP&L Residential Energy Efficiency Financing Contractor FAQs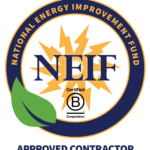 JCP&L HVAC Program Brochure