Share Your NEIF-Approved Contractor Status Using These Graphics!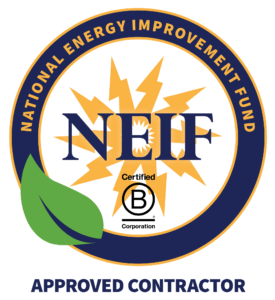 Sharing Your Approved-Contractor Status

How to Feature NEIF Financing 
NEIF-Approved Contractors enjoy the exclusive perk of being able to feature our energy efficiency financing on their own company websites. Reference the Jump Start Guide for further instructions on how to highlight NEIF on your financing page.
Click the button below to download our NEIF-approved logo to display on your company's financing page.
Share your new NEIF-Approved Contractor status with your social media followers! Copy & paste the following caption into a new post for your respective social media accounts:
"We're proud to announce that we now offer simple, transparent, and trusted financing options through the National Energy Improvement Fund (tag us), the nation's only Certified B-Corp™ energy lender. With us, you can Go Greener, Affordably!
#NEIF #EnergyEfficiency #ApprovedContractor #Quality #GoGreener"
Use the buttons below to download NEIF's provided social media graphics – sized for both Facebook and Instagram.
*Be sure to tag National Energy Improvement Fund on Facebook and Instagram:
Contact one of our expert Contractor Support team or Business Development team members for information or with any questions you may have.
National Energy Improvement Fund LLC
For general inquires and/or sending documents, you can contact the contractor support team at:
Looking for the NEIF Management team?