Energy-Smart Homes Program
Californians can electrify their homes with simple, transparent and trusted fixed rate, low payment financing.
Upgrade your home's efficiency, strength, health and comfort with simple, transparent and trusted fixed rate, low payment financing.
The California Energy-Smart Homes Program provides incentives to adopt advanced energy measures and transition to all-electric residential construction. The program supports California's focus on building electrification to meet its climate objectives. Energy-Smart Homes is available to utility customers in the San Diego Gas & Electric Company (SDG&E®), Pacific Gas and Electric Company (PG&E®), and Southern California Edison Company (SCE®) territories.
Home improvements can be expensive – and short term "promotional" financing may not be the best option for your monthly budget. But upgrades to your heating and cooling systems can pay big dividends through energy savings, making your home more resilient to bad weather and improving your home's livability and comfort. Especially if they are installed by a contractor who has earned the NEIF Seal of Approval, from the nation's only Certified B Corp™ , meeting the highest standards of accountability and social and environmental impact and a U.S. Department of Energy Home Improvement Expert lender partner.
What Improvements Qualify?
California homeowners making qualifying improvements to their primary residence or vacation home (1 to 4 unit on permanent foundation). Work must be performed by a NEIF-Approved Contractor.
Electrification Improvements Eligible for Rebates and Financing
Heat pump clothes dryer

– Replacing gas clothes dryer

Ductless mini-split heat pump
Heat pump replacing A/C and furnace
Heat pump water heater replacing NG water heater
Click here for Energy-Smart rebate information.
Other Qualifying Improvements – Additional work can be part of the financed project if at least 50% of the total qualifying improvements include:
Air Conditioning (Central) 

Heat Pumps

Generators

Geothermal 
Electrical Work
Kitchens & Baths
Lighting & Controls
Plumbing Work
Solar

Water Heaters 

Water Treatment
Roofing 
Air Sealing & Insulation
Awnings & Shading
Carpet, Flooring, Tile
Siding
Windows & Doors 
Whole House (Home Performance)
EV Charging & Battery Storage
Other Energy Improvements – Case by case
Special Financing with Low Guaranteed Monthly Payments
100% Financing of Project 
From $2,500 to $35,000 
Combine with Energy-Smart rebates for qualifying improvements
Simple Interest Unsecured Loan – No lien on property
Low Guaranteed Fixed Monthly Payments – Not a credit card or teaser rate
Complete Flexibility on How Much Interest You Pay  – pay off or pay ahead with no penalty
Simple, Transparent, Expert, Trusted Financing from the nation's most experienced B-Corp energy  improvement lender
California residents

1 to 4-unit primary or secondary (vacation) home – deeded properties and co-operative housing communities

Owner-occupied, no investment properties
Must be affixed to a permanent foundation
Unsecured loans – property type is for qualification purposes only—no lien is filed
1. Get an Estimate
Contact a NEIF-Approved Contractor to get an estimate for qualifying improvements.
2. Fast Approval
Find a NEIF-Approved Contractor and apply via their application link for an instant credit decision. If you don't have a contractor selected Apply on-line https://www.neifund.org/apply-online directly for a no-obligation credit pre-approval.
3. Installation & Payment to Contractor
Your contractor will send us a copy of your estimate/proposal identifying final price and qualifying improvements. You will receive electronic loan documents for your signature. NEIF pays the contractor when the work is completed to your satisfaction. Your rebate for qualifying measures will be processed separately.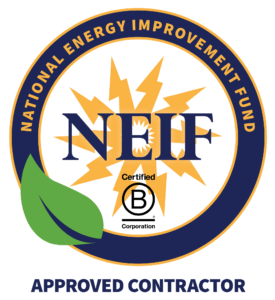 Contractors who have earned the NEIF Seal of Approval are qualified, leading contractors of all sizes authorized to offer NEIF's trusted, affordable monthly payment plans for energy and resilience upgrades.
They have met NEIF standards for commitment to quality work and customer service, financial stability and personal integrity and leverage our technology, expertise and relationships to broaden their markets in HVAC, Roofing, Remodeling, Lighting, and most energy improvements
If you are not already a NEIF-Approved Contractor, Apply Here!
CA Energy-Smart Homes Program Information
CA Energy-Smart Homes All-Electric Residential Program Brochure
CA Energy-Smart Homes Mixed-Fuel Residential Program Brochure