0% interest, 2-year financing for qualifying California residents making eligible energy efficient home improvements.

Learn More About Financing Your Energy Efficiency Project!
In coordination with Franklin Energy, NEIF offers 0% financing to eligible Franklin Energy borrowers for qualifying home improvements. 
What Improvements Qualify?
Comfort Package, Single Story
Comfort Package, Two Story
HVAC Fuel Swap to Heat Pump
DHW Fuel Swap to Heat Pump Water Heater
Consultation, approval and customer application. Franklin Energy and an NEIF-approved contractor will complete a NEIF project application, which will generate a monthly payment estimate, which the Trade Ally will share with the customer along with the work scope. If the customer elects to move forward with the project and desires to finance such project through a loan with NEIF, then the Trade Ally will direct the customer to the NEIF application system. The NEIF system will then send an application link to the customer, incorporating the appropriate project cost and Loan Rebate, etc., showing a monthly loan payment amount to the customer. The customer shall then fill out the loan application, which NEIF shall review and notify the customer, Franklin Energy and its approved Trade Ally of the result.
NEIF approves Eligible Customer for loan at 0% interest.
Eligible Customer signs loan documents.
NEIF issues notice to Franklin Energy and its applicable Trade Ally to proceed with installation.
The Trade Ally shall perform the applicable work for the project.
The Eligible Customer, Trade Ally and Franklin Energy shall sign a completion certificate upon the completion of the work for the project.
Low Guaranteed Monthly Payments
Borrowers whose projects are vetted by Franklin Energy


 
1. Get an Estimate
Contact a NEIF-Approved Contractor to get an estimate for qualifying improvements.
2. Fast Approval
Find a NEIF-Approved Contractor and apply via their application link for an instant credit decision. If you don't have a contractor selected Apply on-line https://www.neifund.org/apply-online directly for a no-obligation credit pre-approval.
3. Installation & Payment to Contractor
Your contractor will send us a copy of your estimate/proposal identifying final price and qualifying improvements. You will receive electronic loan documents for your signature. NEIF pays the contractor when the work is completed to your satisfaction.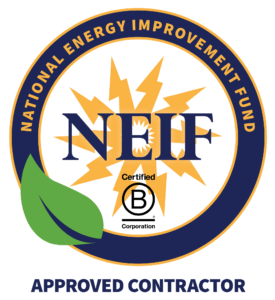 Contractors who have earned the NEIF Seal of Approval are qualified, leading contractors of all sizes authorized to offer NEIF's trusted, affordable monthly payment plans for energy and resilience upgrades.
They have met NEIF standards for commitment to quality work and customer service, financial stability and personal integrity and leverage our technology, expertise and relationships to broaden their markets in HVAC, Roofing, Remodeling, Lighting, and most energy improvements
If you are not already a NEIF-Approved Contractor, Apply Here!
Contractor Program Fact Sheet